SATURDAY 15 AUG 2009
It was Siling & Norman's anniversary but Andy, Adam & I tagged along with Siling's Mama and sister too Heh heh.
Went to Sukiya for the shabu-shabu buffet.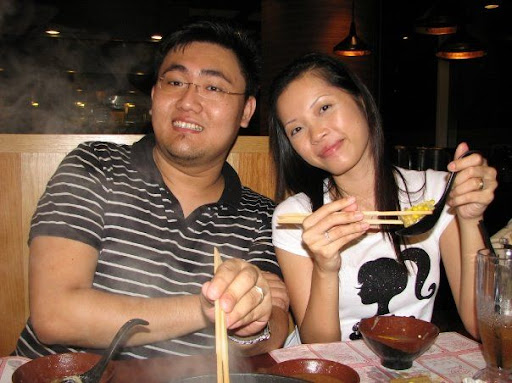 Chairman Adam.
Halfway through our dinner, Adam started fussing and getting cranky in his stroller so we had to take turns pacifying him. Siling's mama is so good to help me with him so that I could eat.
She's so nice!
Finally, our little family shot:
I look damn tired and without makeup in all the photos. That's cos we had to bring Baby A everywhere with us for the weekend (due to Andy's mum being in Indonesia), and THAT is tiring as hell!
It's like running the Standard Chartered 42km marathon, minus the sense of achievement -__-

I salute those mums who can bring their babies out alone.. with stroller, diaper bag and baby and taking public transport. Woah!